I click Alphabetically 'A' first but nothing happens on sidebar. How can I sort files inside a folder?
When zoomed into the folder '02', if you tag it with #Automatically Sort, does it arrange them in alphabetical order (A - Z)?
If this works, you can do the same for any other folder that you want sorted in this manner.
No it doesn't do anything at all. (Adding #Automatically sort tag in folder 02)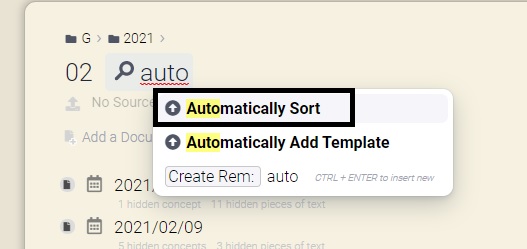 Am I doing it right? Pls check the image.
Hmm, that seems right to me. I tried it out myself and I think the problem is that these documents are daily documents (or documents that were manually tagged with the #Daily Documents power-up tag).


By removing this tag,

, and then tagging the parent (Folder 02 in your case) with
#Automatically Sort
, the rems should auto-sort themselves in ascending order.
Note: Removing this tag might cause these rems not to show up in the sidebar.
If you still want these rems to show up in the sidebar, you can tag them with #Document (Copy the Document rem as a tag > Select all the date rems > Paste the tag).
My guess as to why these daily documents are not being automatically sorted is that the folder 02 that they are in is probably one that is nested under the original Daily Documents folder and is therefore not being automatically sorted by default as it should.


Alternative: If these rems were direct child rems of the Daily Documents document (i.e. not nested), they would be auto-sorted.
Hope this makes sense

I just tried to remove tags as you said and it only sorts folders.
It does not sort documents inside folders.