I'm trying to import my RemNote's backup from my Online Knowledge Base to the Local Base but it failed. And my backup is about 100m. @Karthikk
It took me half an hour to finish the progress bar, but suddenly it turned into a white screen. Here is the final result after import.


And then I reloaded the program. Nothing was imported.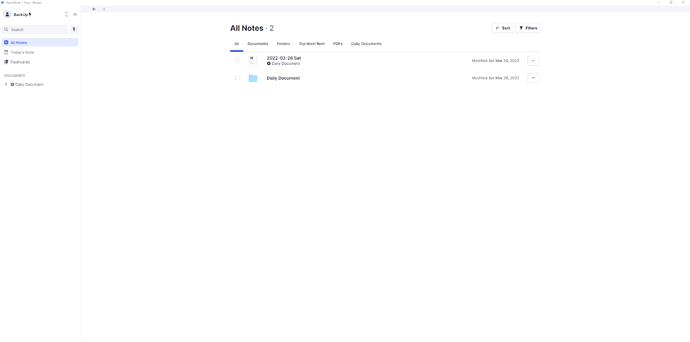 By the way I guess you will need this information
Long write guarantees:
[{"isCurrentlyStuck":false,"longWriteTriggered":true,"_id":12,"debugName":"importRemNoteJSON","args":[]},{"isCurrentlyStuck":false,"longWriteTriggered":true,"_id":58,"debugName":"In write guarantee.","args":[]},{"isCurrentlyStuck":false,"longWriteTriggered":true,"_id":59,"debugName":"In write guarantee.","args":[]},{"isCurrentlyStuck":false,"longWriteTriggered":true,"_id":60,"debugName":"In write guarantee.","args":[]},{"isCurrentlyStuck":false,"longWriteTriggered":true,"_id":61,"debugName":"In write guarantee.","args":[]},{"isCurrentlyStuck":false,"longWriteTriggered":true,"_id":62,"debugName":"In write guarantee.","args":[]},{"isCurrentlyStuck":false,"longWriteTriggered":true,"_id":63,"debugName":"In write guarantee.","args":[]},{"isCurrentlyStuck":false,"longWriteTriggered":true,"_id":64,"debugName":"In write guarantee.","args":[]},{"isCurrentlyStuck":false,"longWriteTriggered":true,"_id":65,"debugName":"In write guarantee.","args":[]},{"isCurrentlyStuck":false,"longWriteTriggered":true,"_id":2102,"debugName":"In write guarantee.","args":[]},{"isCurrentlyStuck":false,"longWriteTriggered":true,"_id":29402,"debugName":"In write guarantee.","args":[]},{"isCurrentlyStuck":false,"longWriteTriggered":true,"_id":100501,"debugName":"In write guarantee.","args":[]},{"isCurrentlyStuck":false,"longWriteTriggered":true,"_id":100502,"debugName":"In write guarantee.","args":[]},{"isCurrentlyStuck":false,"longWriteTriggered":true,"_id":100503,"debugName":"In write guarantee.","args":[]},{"isCurrentlyStuck":false,"longWriteTriggered":true,"_id":100504,"debugName":"In write guarantee.","args":[]},{"isCurrentlyStuck":false,"longWriteTriggered":true,"_id":100505,"debugName":"In write guarantee.","args":[]},{"isCurrentlyStuck":false,"longWriteTriggered":true,"_id":100506,"debugName":"In write guarantee.","args":[]},{"isCurrentlyStuck":false,"longWriteTriggered":true,"_id":100507,"debugName":"In write guarantee.","args":[]},{"isCurrentlyStuck":false,"longWriteTriggered":true,"_id":100508,"debugName":"In write guarantee.","args":[]},{"isCurrentlyStuck":false,"longWriteTriggered":true,"_id":100509,"debugName":"In write guarantee.","args":[]},{"isCurrentlyStuck":false,"longWriteTriggered":true,"_id":100510,"debugName":"In write guarantee.","args":[]},{"isCurrentlyStuck":false,"longWriteTriggered":true,"_id":100511,"debugName":"In write guarantee.","args":[]},{"isCurrentlyStuck":false,"longWriteTriggered":true,"_id":100512,"debugName":"In write guarantee.","args":[]},{"isCurrentlyStuck":false,"longWriteTriggered":true,"_id":100513,"debugName":"In write guarantee.","args":[]},{"isCurrentlyStuck":false,"longWriteTriggered":true,"_id":100514,"debugName":"In write guarantee.","args":[]},{"isCurrentlyStuck":false,"longWriteTriggered":true,"_id":100515,"debugName":"In write guarantee.","args":[]},{"isCurrentlyStuck":false,"longWriteTriggered":true,"_id":100516,"debugName":"In write guarantee.","args":[]},{"isCurrentlyStuck":false,"longWriteTriggered":true,"_id":100517,"debugName":"In write guarantee.","args":[]},{"isCurrentlyStuck":false,"longWriteTriggered":true,"_id":100518,"debugName":"In write guarantee.","args":[]},{"isCurrentlyStuck":false,"longWriteTriggered":true,"_id":100519,"debugName":"In write guarantee.","args":[]},{"isCurrentlyStuck":false,"longWriteTriggered":true,"_id":100520,"debugName":"In write guarantee.","args":[]},{"isCurrentlyStuck":false,"longWriteTriggered":true,"_id":100521,"debugName":"In write guarantee.","args":[]},{"isCurrentlyStuck":false,"longWriteTriggered":true,"_id":100522,"debugName":"In write guarantee.","args":[]},{"isCurrentlyStuck":false,"longWriteTriggered":true,"_id":100523,"debugName":"In write guarantee.","args":[]},{"isCurrentlyStuck":false,"longWriteTriggered":true,"_id":100524,"debugName":"In write guarantee.","args":[]},{"isCurrentlyStuck":false,"longWriteTriggered":true,"_id":100525,"debugName":"In write guarantee.","args":[]},{"isCurrentlyStuck":false,"longWriteTriggered":true,"_id":100526,"debugName":"In write guarantee.","args":[]},{"isCurrentlyStuck":true,"longWriteTriggered":true,"_id":1669531,"debugName":"In write guarantee.","args":[]}]