Hello. I've made a plugin to learn more about programming and project. I read a lot, but I wanted a tool to study with YouTube too.
You can read below some parts from my GitHub. Sorry for my mistakes, I'm not a native English speaker.
rnyt
take notes in RemNote with a YouTube video
plugin for RemNote with only read and create permissions
Description
create timestamps like chapters, add child notes with or without timestamps
review you video notes later
jump to the timestamps with your mouse or your keyboard
control the player with shortcuts
set the default settings, so you don't have to do your settings again
put questions and get the answer with a video link
modify your rems in Remnote
Quick start
Short presentation video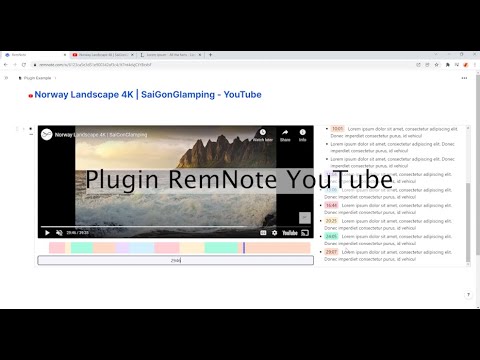 How to add the plugin ?
How to use the plugin ?
copy paste your video link in RemNote (youtube . com or you . tube)
go into the rem
insert the plugin
click on the video to start
input a delay to rewind the video when you take a note
How to change the default settings ?
you can skip and use these settings later
go into RemNote YT

dark_mode : 0 (or 1)
width: 65 (% value)
playback_speed: 1 (0.25, 0.5, …, 2)
delay: 0 (seconds)
caption: 0 (or 1)
Tips
remember at least the shortcuts to input your notes and the left/right keys to move
you can rewind/forward while you have an empty text input to target the best time (it doesn't cancel the delay)
enable/disable the delay with "d" if you want to make many notes in a row
Commands
Button
take note : take a note
delay : the timestamp begins earlier
keyboard : check if the plugin player has the focus to use shortcuts
refresh : correct your notes, fold and refresh
Keyboard shortcuts
Video is playing
note
playing
left : rewind 5s
right : forward 5s
space : play/pause
j : rewind 10s
l : forward 10s
k : play/pause
0-9 : n * 10% jump
shift + , : slower
shift + . : faster
multimedia
media play pause : play/pause
media track previous : previous
media track next : next
sound
m : mute
shift + up : volume up
shift + down : volume down
jump
shift + chapter up : previous
shift + chapter down : next chapter
shift + home : first chapter
shift + end : last chapter
backspace : repeat the current chapter
other
r : refresh
d : enable/disable the delay
You're taking a note
note
enter : enter a parent note with a timestamp
shift + enter : enter a question to create a flashcard
child note
ctrl + enter : enter a child note with a timestamp
alt + enter : enter a child note without a timestamp
ctrl + shift + enter : enter a child question to create a flashcard
other
left / right : you can use left and right before to type
cancel : erase and leave the text input
Note
you can use qwerty and azerty
Warning
don't delete the "RemNote YT" rem, it can break the plugin
plugin name

always use the same name, but you can change the link and the height
if you change the name, you will need to add another plugin in RemNote to be able to use all the plugins you've used
if you don't want the settings, use -np in the plugin name : example rnyt -np (warning : it is like a new name)
use an useless name like "rnyt" to avoid noise when you search in RemNote

the plugin can't modify the rems, so it won't correct the misplaced rems
be careful when you edit your rems into RemNote

the timestamps are mandatory on the top level
follow the chronological order
the child notes with a timestamp are inserted before child notes without a timestamp

the child notes are linked to the current chapter, you can change it into RemNote
show one plugin at a time to avoid duplicates
in the settings, change only the numbers and don't write units
refresh could fix some displaying bugs
the plugin has been tested with dozens of notes only